A Message To Our Community:
Read our communication regarding new measures our team is enacting in this critical time.
We're Always Open!
703-291-1926
We're Always Open!

703-291-1926
Residential Heating, Air Conditioning, Plumbing, and Electrical Services in Northern Virginia
Save on HVAC Services in Northern Virginia
John Nugent & Sons knows that not everyone budgets emergency HVAC, electrical, or pluming services and no one wants to spend their savings on a new air conditioner or furnace repairs. We offer promotions and specials to help offset the cost of your air conditioner or furnace repair.
No matter which promotion we offer, you will always get the same service and quality work.
Why Choose John Nugent & Sons for HVAC Services in Northern Virginia?
John Nugent & Sons has been a family owned and operated company since 1975. We pride ourselves on providing the high quality of service and very personal touch that only a family company can offer. It is our belief that each and every customer deserves to be treated with the same respect and honesty as a member of our family. Our top-ranked customer service and superior quality of work can be attributed to this belief. In 1975 we started small, but over the years more and more people have accepted our offer to join the family. While we've grown to meet the expanding needs of these customers, we're always careful not to jeopardize the value and quality of service that have been our trademark since the beginning. Our commitment to excellence is what got us this far, and we plan on honoring this commitment long into the future.
Call the experts at John Nugent & Sons for quality HVAC services you can count on, 703-291-1926.
Current Internet Special
$25 Off Plumbing Service!

Not valid with other offers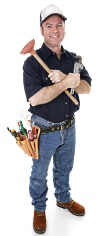 See Our Coupons & Specials
Testimonials
10 TIME

Super Service Award Winner!
"John Nugent & Sons, I believe, is a model for a company with excellent management, superior service through cooperative scheduling and excellent service representatives."
J.A. – Leesburg, VA.